Venom Presents: A Pure, Plug & Play Car Audio Experience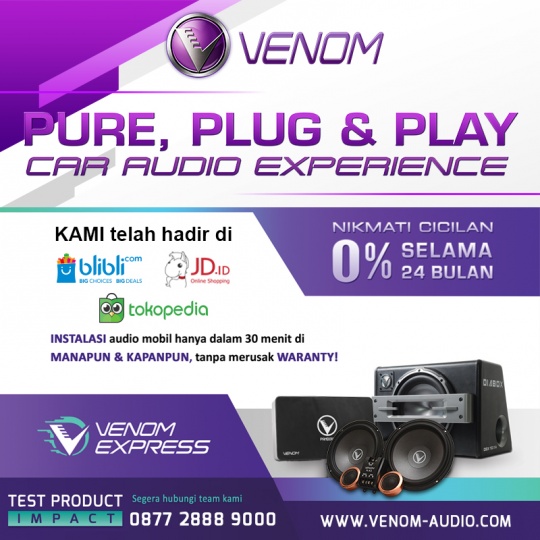 Venom Presents: A Pure, Plug & Play Car Audio Experience
Without music, life would be a mistake. No matter where you are, listening to music in the comfort of your own room, during a live concert performance, or while stuck in traffic during commute to work, music should never be a compromise.
We, at Venom, understand this. Our vision is to present you with a pure, plug & play car audio experience delivering sounds on-the-go that captures the sensation of a home stereo system straight to your car. We believe that being in a car should in no way restrict you from enjoying music as it is intended to be; pure, unadulterated and most definitely alive.
At Venom, we constantly strive to raise the bar on what is possible with high-end car audio. Not just from a technological perspective, but also from a practical one, developing convenient ways to enhance your car audio experience while still delivering the high standards we've always been known for.
Quick, painless installation
Our range of car audio equipment is designed to fully accommodate modern lifestyle. With only 30 minutes of installation and without voiding any warranty, our products can be installed whenever and wherever you choose.
No need to drop off your car at the shop overnight for a laborious process. You can simply have our products delivered to where you are and installed straightaway without interrupting your day.
Online Availability
We understand that due to the hectic nature of modern life, you might not have the time to leisurely check out what our team of engineers at Venom has prepared for you.
Now available at e-commerce sites Blibli, Tokopedia and JD.id, you can comfortably browse through our products at your own convenience with a promise of 0% interest for up to 24 months.
Visit our page at these retailers for more details:
www.blib.li/venom-audio (Blibli.com)
www.jd.id/promo-venom-audio (JD.id)
www.tokopedia.com/venom555 (Tokopedia)
Drop us a line at 0877 2888 9000 if you're interested or visit our website at www.venom-audio.com for a detailed look on our products and what exactly sets us apart.